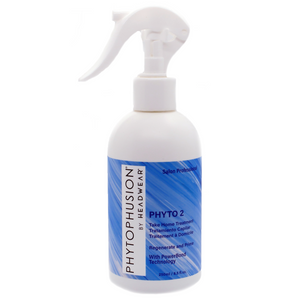 Phyto 2 PowerBond Regenerating Take Home Treatment
Formulated with a mild acid pH that reverses the alkaline effect. It seals the cuticle, helping the color stay in the cortex.
Preserves color vibrancy
Resets pH level to optimal 4.5-5.5
Reduces color fade by 50%
FACT
An average permanent color has an alkaline pH of 8. When an alkaline substance is applied to hair, it opens up the cuticle. This allows the mixture to penetrate the cortex where it can react with the hair's pigment molecules to produce a color change.
How to Use:
Spray evenly to damp hair. Saturate the hair and use a wide tooth comb to distribute the product evenly. Leave on for 5-10 minutes and rinse.